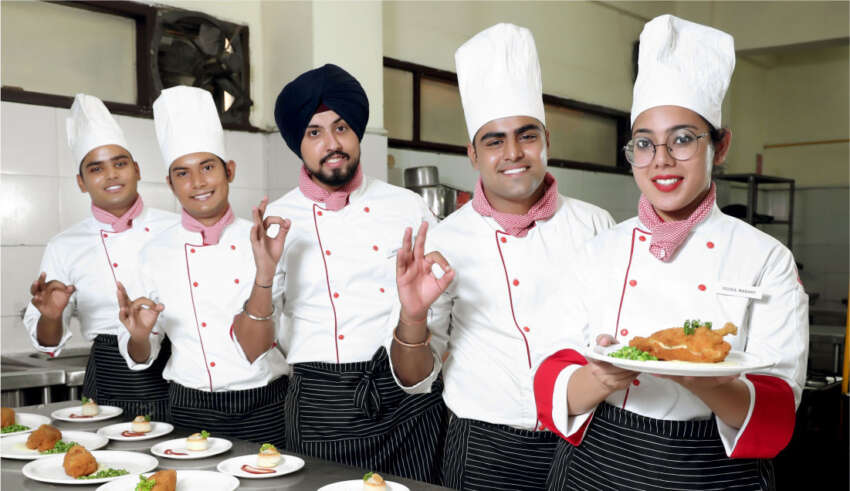 The various types of chefs within a restaurant are all charged with performing different tasks. Becoming a head chef in any professional kitchen takes years of education and experience in multiple positions.
A fish chef (Poissonnier) prepares all fish dishes, including appetizers and entrees. They also create fish soups and stocks.
Pantry Chef
The pantry chef, or the chef garde manger or larder chef, prepares cold foods and buffet items in a restaurant, hotel, or banquet kitchen. They follow recipes and guidelines set by the executive chef to prepare various food items, including hors d'oeuvres, salads, sandwiches, desserts, marinades, soups, and other cold dishes.
A pantry chef's duties include the following:
Washing and cutting vegetables.
Chopping or slicing various foods for preparation.
Filling in at other stations when chefs are absent.
Stocking refrigerators and cupboards with fresh ingredients.
Arranging food displays.
Brewing coffee.
Finding ways to repurpose leftovers.
Maintaining knowledge of food safety procedures.
They must also be able to work in a team-oriented environment under pressure and in fast-paced, high-stress conditions.
Experienced pastry chefs with management skills can advance into the head or executive chef roles. They can also choose to specialize and become pastry or seafood chefs.
Roast Chef
The Roast Chef (Rotisseur) is responsible for roasted meat dishes and their accompanying sauces. Their duties may also include preparing cold foods such as garnishes, salads, and cold meats. A Fry Chef or Frituier prepares fried foods, and a Saute Chef or Saucier makes sauces for other dishes.
The Pastry Chef or patissier handles all baked goods and desserts. Their tasks often include preparing doughs and batters, baking, and adding artistic decorations to their creations.
A Sous Chef or Sous-chef de cuisine works under the executive chef, helping to define menu concepts and develop dishes. They must have excellent organizational skills and work well under pressure. They may be required to step in and take over for an executive chef when needed. They are in charge of a kitchen department and may oversee chefs at different stations like the frying or grilling station, fish, vegetables, or sauces. Each chef in a kitchen has their specialty station.
Vegetable Chef
A chef's job is to create dishes, so they must understand ingredients and cooking techniques. They must also know how to manage a kitchen team, so chefs earn higher salaries than cooks.
While many people confuse these two positions, there are significant differences between a chef and a cook. A chef is a high-ranking kitchen professional who manages a food establishment's kitchen. At the same time, a cook is an entry-level employee whose primary responsibilities are to follow recipes and prepare meals.
A pastry chef specializes in everything related to desserts, including bread and cakes. They may work in fine-dining restaurants or bakeries. Their day-to-day tasks may include preparing doughs and batters, baking, and decorating pastries. They may also be responsible for a potager or legumes station in larger-scale establishments.
Fish Chef
A fish chef, or Poissonnier, is in charge of preparing all fish dishes on the menu. This may include sourcing fresh local fish daily and bringing in non-local catches as needed to supplement the restaurant's inventory of seafood items. They are also responsible for preparing any sauces that accompany the fish.
While a cook is generally an entry-level kitchen professional, most chefs de partie have formal culinary training. They often work in the kitchen for years, advancing through the ranks as they gain experience. Many chef-de-parties specialize in one area of food production, such as a pastry chef or patissier handling baked goods, a roast chef or rotisserie handling roasted meats, and a vegetable chef or extremities producing vegetables and soups.