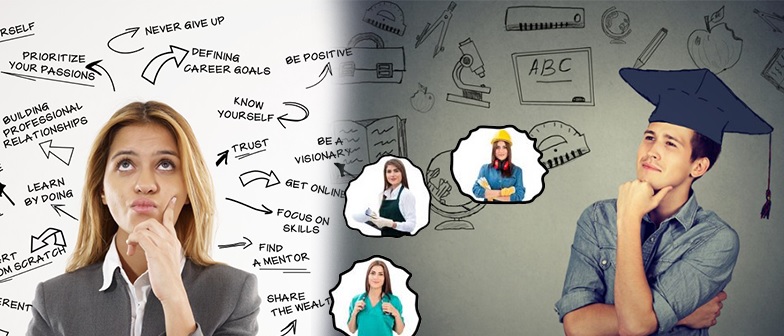 After completing their undergraduate degrees, most students contemplate their next career move. Some people prefer to start working, whereas others wish to pursue postgraduation in the field of their choice. While getting a job after completing your undergraduate course can be a good career move, studying for a postgraduate degree might help you get better job opportunities and a higher pay scale.
The end of graduation marks a great milestone in life and makes one feel that they have accomplished something. But finding the right career option after your undergraduate degree also determines your future career. Therefore, choosing the best career options after graduation is essential. This involves research and deep diving into your interests and skills.
If you are also confused about the career opportunities after graduation, we have a list that might help you.
Best Career Options After Graduation
The best opportunities when it comes to a career after graduation are the ones that match your interests and career goals. Here are some of the best career options after graduation that you can choose.
In the world of technology and innovation, digital marketing has hugely disrupted the business sector. People with a degree in digital marketing are in demand because every organisation needs digital marketing to scale up its profits. As a result, the job opportunities in the field are endless.
Some top job options you can choose are SEO specialist, Social Media Manager, Google Ads Expert, Content Marketing Manager, etc. To pursue a career in digital marketing, you can either get a postgraduate degree in digital marketing, or you can also do short-term courses available online. This field appeals to people with creative minds, techies, and even business-minded individuals. After a course in digital marketing, you can earn anywhere between 3 to 6 lakhs per annum as a fresher.
Postgraduate Diploma in Management
PGDM is one of the most popular courses for a career after graduation. If you have an interest in business management or are looking to start something of your own, this is one of the best courses to pursue. PGDM is more practical-based compared to an MBA. In addition, all the latest updates in the world of business are included in the PGDM curriculum.
The course is not limited to a good pay scale; it also enhances a student's personality and sets them on a path to success. With a PGDM degree from one of the reputed colleges in India, you can work in managerial roles in the organisation of your choice. This is one of the best career options after graduation.
If technology is something that interests you deeply, then MTech is the right choice for you. The course is ideal for students with good technical knowledge and want to gain a deeper knowledge of technology-related aspects. On the other hand, if you have a BTech degree, pursuing MTech might be the right career move as it will open doors for managerial-level jobs for you.
This course will help you get better job opportunities, boost your career growth, and increase your salary in the long run. Also, for people who prefer to do research in technology, MTech is one of the best career opportunities after graduation.
Post Graduation in Hotel & Hospitality Management
If serving guests and customers deeply interests you, then a degree in hospitality and hotel management might just be the best career move after graduation. A career in hotel management promises quick career growth and multiple job prospects. As a holder of a hotel and hospitality management degree, you will be required to handle almost all departments in the hotel industry. This can range from being at the front desk or hiring more staff for the hotel. Moreover, if you have people skills, this industry is best suited for you because it is one of the most people-oriented industries in the world.
Postgraduate degree in Machine Learning
Artificial intelligence and machine learning have changed the way things work all around the world. The industry is only growing by leaps and bounds and is expected to grow at a faster rate in the coming years. If you possess the right skills and knowledge related to this field, then you will have a rewarding career.
To excel in the degree, one must possess mathematical, statistical, and technical knowledge. In addition, machine learning and artificial intelligence are bound to touch almost every industry in the economy, meaning there will be multiple job opportunities for the students.
Conclusion
Completing a postgraduate course is one of the greatest achievements in an individual's life. But there is also confusion regarding the best career options after graduation. While there are multiple career options that you can choose from, as listed above, the right one for you depends on your area of interest and expertise. It sometimes also depends on the undergraduate degree that you have pursued. Your career should be something that you are passionate about, so choose the right option after understanding your preferences, skills, and knowledge.
If you are seeking the right career after graduation, Sunstone can help you. Sunstone works with reputed colleges and universities all over India to help students gain skills that will help enhance their employability. In addition, you will gain access to amazing soft skill development courses, industry-focused projects, and specialised internships.
Frequently Asked Questions
What can I do after my graduation?
After completing your graduation, you can choose to pursue a postgraduate course like MBA, PGDM, MTech, MA, etc., or you can get employed at one of the reputed organisations in India. Depending on your career goals, you can choose the right option for yourself.
Can I change my career after graduation?
Yes, you can change your career after graduation. You can choose to pursue a postgraduate course that you prefer. For example, many BTech students pursue an MBA or PGDM after graduation.
Similarly, you can also choose to pursue a postgraduate degree of your choice. But there are some postgraduate degrees that require you to have some specific undergraduate degrees, so you might not be able to pursue those if you do not have the right undergraduate degree.
Which job can I do after graduation?
There are multiple jobs that you can do after graduation, depending on your course and college. You can research jobs according to your undergraduate degree and apply for them online or offline.